C'est la rentrée scolaire en anglais avec The Kids School pour les enfants et adolescents. Dès le 04 Septembre, les cours d'anglais à Montpellier redémarrent pour le trimestre et l'année scolaire.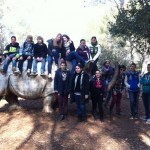 Pour les enfants de 3 ans à 10 ans, The Language Club permet de positiver les enfants et de donner le gout d'apprendre. La méthode structurée des cours et notre expérience de l'enseignement de l'anglais aux enfants depuis 1991 vont permettre aux enfants de prendre confiance en eux et d'assimiler le vocabulaire au fil des semaines.  Tous les Mercredi de 09h à 17h00 (tarif adhérent à partir de 8€ de l'heure).
'English Upgrade' pour les adolescents est un programme pédagogique de mise en pratique de l'anglais créé sur mesure pour  les enfants de 11 ans à 17 ans. Tout se déroule en anglais pour mettre en pratique la structure linguistique et du vocabulaire ciblé à l'oral. Tous les Mercredi 14h ou 16h et le Vendredi dès 18h00 (tarif adhérent à partir de 11€ l'heure).
Venez-vous renseigner au centre franco-américain ou appeler au 04.67.92.30.66