Nous voulons mettre toutes nos chances de notre côté pour permettre à vos enfants de vivre une expérience inoubliable tout en progressant en anglais. Pour prendre en compte l'âge et les centres d'intérêts de vos enfants dans la création de nos modules pédagogiques, nous avons besoin de temps.
Nous devons aussi faire nos courses en fonction des activités que votre enfant aime pratiquer, Pâte à modeler, peinture, colle pailletée, ballons de baskets, battes de baseball, accessoires de théâtre, ingrédients pour cuisine …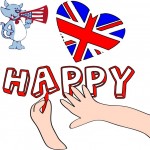 Nous voulons que tout soit prêt à temps pour permettre à vos enfants d'avoir le « déclic » en anglais ! Si vous aussi vous souhaitez la même chose pour vos enfants, contactez-nous au 04 67 58 98 20.
Si votre enfant a entre :
11 et 16 ans, choisissez The Day Camp
3 et 10 ans, choisissez The Language Club
Consultez le calendrier des stages ici
See you soon at The Kids School !