Bonjour à tous ! Vous cherchez des stages pour les vacances scolaires Montpellier? Nous sommes ravis de vous parler de nos stages intensifs en anglais pour enfants et adolescents. Nous proposons deux types de cours : un pour les enfants et un autre pour les ados.
Stages vacances scolaires Montpellier pour Ado et Enfants
Commençons par notre cours intensif pour les enfants, qui se déroule sur une semaine. The language Club. Les enfants âgés de 3 à 10 ans peuvent s'immerger dans la langue anglaise et découvrir de nombreux thèmes tels que par exemple l'art, le mouvement, le théâtre, la cuisine, la nature et les animaux, le tout dans un environnement d'apprentissage agréable et sûr.
Nos enseignants anglophones expérimentés veillent à ce que chaque enfant se sente en confiance et s'amuse tout en apprenant. De plus, les enfants peuvent se faire des amis tout en pratiquant leur anglais.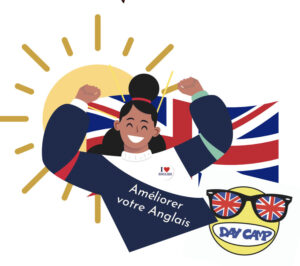 Pour les ados âgés de 11 à 16 ans, The Day Camp est stimulant et passionnant. Ainsi, les ados peuvent découvrir une variété de thèmes et de sujets intéressants tout en pratiquant leur anglais. Nous créons un environnement de confiance pour les aider à expérimenter, apprendre de leurs erreurs et s'améliorer. Par exemple, les excursions et les sorties sont également au programme, ce qui ajoute une dimension excitante à l'expérience.Notre équipe de professeurs anglophones est passionnée et expérimentée, avec plus de 30 ans d'expérience dans l'enseignement de l'anglais. Nous avons développé une méthode efficace qui aide les enfants et les adolescents à apprendre l'anglais de manière naturelle et amusante. Nous mettons à disposition des ressources pédagogiques telles que des tutoriels, des quiz et des vidéos pour soutenir l'apprentissage et faciliter l'immersion dans la langue.Notre objectif est d'offrir une expérience d'apprentissage inoubliable à vos enfants et adolescents. Et, nous voulons qu'ils se sentent confiants, qu'ils s'amusent et qu'ils progressent en anglais. Rejoignez-nous pour une expérience linguistique et culturelle exceptionnelle. Nous avons hâte de vous rencontrer !
Pour consulter le planning des stages Vacances Scolaires Montpellier, cliquer ICI
Pour vous inscrire à un de nos stages contactez-nous au 04 67 92 50 74 ou prenez un rendez-vous