Chaque année pendant les vacances d'été, les enfants de 11 à 18 ans peuvent profiter d'une immersion linguistique en participant à notre « Day Camp Tour ». Ce programme leur permettra de dépasser leurs limites, mettre en pratique l'anglais par des mises en situations concrètes, prendre confiance et travailler en équipe
N'ayez plus peur de prendre la parole, osez parler anglais!
The Day Camp Tour est un programme intensif, puisqu'il associe chaque jour des modules éducatifs à une méthode efficace et ludique, des activités divertissantes et des excursions. Les enfants vont apprendre par l'intermédiaire de nouvelles techniques d'assimilation linguistique, ils vont développer des compétences pour réussir en anglais et apprendre en s'amusant.
Pendant 9 jours nous partons à la découverte de la ville de Brighton! Le petit San Francisco du Royaume Uni connu par sa célèbre jetée qui s'étend dans la mer depuis le front de mer éblouissant.
Les enfants auront la chance de découvrir la culture, la civilisation de l'Angleterre et connaître son histoire grâce à notre programme.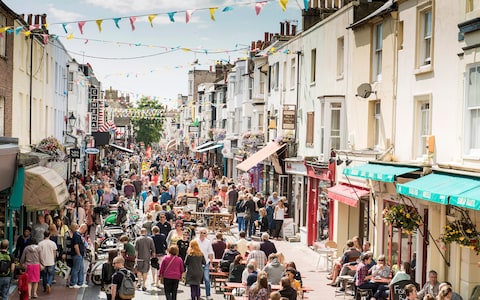 Brighton en un clin d'œil
Brighton est une station balnéaire de renom depuis le XVIIIe siècle et reste le bord de mer préféré des Londoniens et des Anglais du Sud. Attendez-vous à passer une journée pleine de divertissement, de promenades et de toutes sortes d'activités sympathiques, sans parler de la magnifique vue sur l'océan.
La popularité de Brighton a explosé avec l'arrivée du chemin de fer en 1841. Aujourd'hui encore les trains en provenance de Londres continuent d'affluer, elle se trouve à 1 heure de train du centre de Londres.
Les rues commerçantes colorées, nommées The Lanes, sont remplies de boutiques vintage et d'antiquités, et de bijouteries. Toutes s'articulent autour d'un réseau historique de ruelles étroites. Cette ville estudiantine comptant deux universités est une cité très prisée par la jeunesse britannique et internationale.
Infos pratiques
Durée du voyage: du Mercredi  9 Juillet 2017 au Jeudi 18 Juillet 2019
Hébergement: Brighton
Tarifs: Le tarif du programme est de 1450€ et comprend 10 jours en pension complète et l'hébergement
Vol aller-retour à vos propres frais – à réserver avec EASY JET :
Montpellier to London Gatwick (North Terminal)
EZY8054          flight
Départ:            Tue 09 Jul 10:10
Arrivée:           Tue 09 Jul 11:00
London Gatwick (North Terminal) to Montpellier
EZY8055          flight
Départ:            Thu 18 Jul 12:50
Arrivée:           Thu 18 Jul 15:40
Pour plus de renseignement, contactez-nous au 04 67 58 98 20